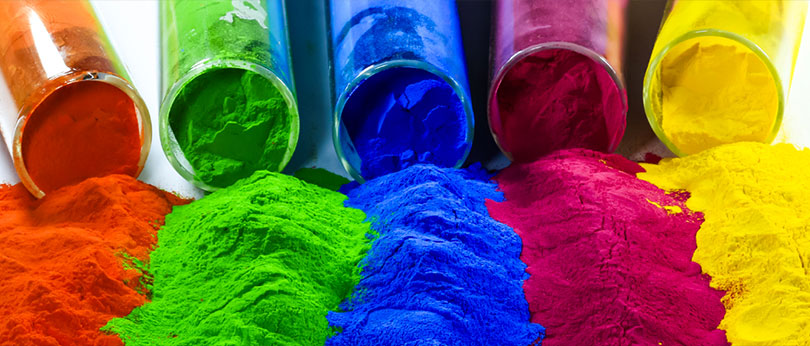 Substantive dyes are popularly known as Direct Dyes. These are dyed on cellulosic fibers at near boiling temperatures from neutral or weakly alkaline baths along with salt.
Although this class of dyes cannot be compared with vat, solubilized vat, azoic, fiber reactive, sulphur and pigment groups of colorants in respect of color fastness properties, their comparative cheapness, simplicity of applications and availability of shades and hues in one class of dyestuffs makes them one of the most important groups of dyes for cotton, viscose, cuprammonium and various cellulose based fine textiles such as voiles, georgette, crepe, chiffon, knitwear etc.
Specific Direct Dyes are also used for dyeing lignin fibers such as jutes, sisal, coir, paper, leather, natural silk, wool, nylon as well as blends of cellulose.
APPLICATIONS
Cotton, wool, silk, nylon fibers etc
Paper industry
Leather Industry
HINARECT DYES
COLOR SWATCH
PRODUCT NAME
C.I. NUMBER
YELLOW
HINARECT CRYSOPHENINE GCH H/C
DIRECT YELLOW 12
RED
HINARECT RED 6B
DIRECT RED 16
HINARECT FAST RED 4BS
DIRECT RED 23
COMING SOON
HINARECT SCARLET 4BK
DIRECT RED 24
COMING SOON
HINARECT FAST RED 8BS
DIRECT RED 26
HINARECT RED 12B
DIRECT RED 31
COMING SOON
HINARECT RED F3R
DIRECT RED 62
COMING SOON
HINARECT LIGHT SCARLET GG
DIRECT RED 76
HINARECT RED 5B
DIRECT RED 81
COMING SOON
HINARECT RED BLL
DIRECT RED 83
ORANGE
HINARECT ORANGE S
DIRECT ORANGE 26
COMING SOON
HINARECT ORANGE WS
DIRECT ORANGE 29
HINARECT ORANGE TGL
DIRECT ORANGE 34
HINARECT ORANGE IR
DIRECT ORANGE 37
HINARECT ORANGE 2GL
DIRECT ORANGE 39
COMING SOON
HINARECT ORANGE 3RL
DIRECT ORANGE 40
COMING SOON
HINARECT ORANGE 2RL
DIRECT ORANGE 41
COMING SOON
HINARECT ORAGNE 7GL
DIRECT ORANGE 46
VIOLET
HINARECT VIOLET MB
DIRECT VIOLET 9
HINARECT VIOLET HELIO B
DIRECT VIOLET 51
BLUE
HINARECT BLUE FF
DIRECT BLUE 1
COMING SOON
HINARECT BLUE G
DIRECT BLUE 8
COMING SOON
HINARECT BLUE GG
DIRECT BLUE 10
HINARECT BLUE 5B
DIRECT BLUE 15
COMING SOON
HINARECT BLUE NB-2B
DIRECT BLUE 54
COMING SOON
HINARECT BLUE 3RL
DIRECT BLUE 67
HINARECT BLUE BRR
DIRECT BLUE 71
COMING SOON
HINARECT BLUE 4GL
DIRECT BLUE 78
HINARECT BLUE 2RL
DIRECT BLUE 80
COMING SOON
HINARECT BLUE DG
DIRECT BLUE 84
HINARECT TURQ. BLUE GL
DIRECT BLUE 86
COMING SOON
HINARECT BLUE RL
DIRECT BLUE 150
COMING SOON
HINARECT COPPER BLUE
DIRECT BLUE 151
COMING SOON
HINARECT BLUE FBL
DIRECT BLUE 158
COMING SOON
HINARECT BLACK NB
DIRECT BLUE 164
HINARECT TURQUOISE BLUE FBL
DIRECT BLUE 199
BLACK
HINARECT BLACK VG
DIRECT BLACK 19
HINARECT BLACK VSF
DIRECT BLACK 22
HINARECT BLACK OB
DIRECT BLACK 80
COMING SOON
HINARECT BLACK F2G
DIRECT BLACK 155
HINARECT BLACK D-NB
DIRECT BLACK 168
COMING SOON
HINARECT BLACK E-NB
DIRECT BLACK 170
* Color swatches are for reference purpose only.