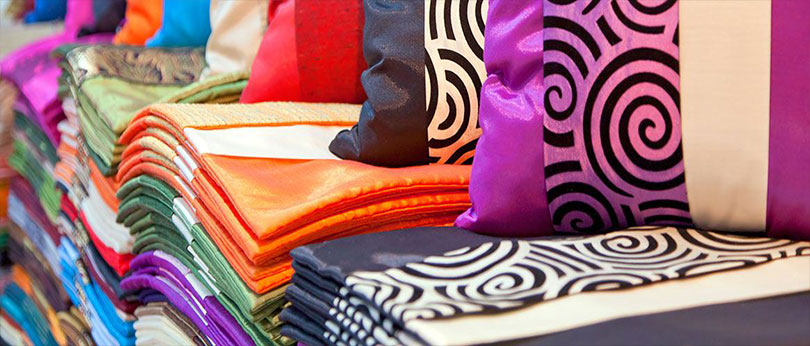 HINAVAT dyes are brilliant in shades, full range in colors and of good dyeing fastness properties on fibers. Most of them have excellent light fastness, so Vat dyes are one of the most important synthetic dyes.
As the leuco compounds of HINAVAT dyes possess high affinity for both natural and regenerated cellulosic fibers, they are extensively applied for cotton, linen and viscose. There are many ways of dyeing for Vat dyestuff like exhaustion, jig and continuous pad-steam.
HINAVAT dyes can be applied by exhaust and padding methods in the complete range of shades. They provide good all-round wet fastness, outstanding light fastness and chlorine-fastness and even excellent dead cotton coverage.
APPLICATIONS
Printing on knitted and woven fabric
Cotton, linen, viscose fibers etc
HINAVAT DYES
PRODUCT NAME
C.I. NUMBER
YELLOW
HINAVAT YELLOW 5G
VAT YELLOW 2
HINAVAT YELLOW 3GC
VAT YELLOW 33
ORANGE
HINAVAT GOLDEN YELLOW RK
VAT ORANGE 1
HINAVAT ORANGE RRT
VAT ORANGE 2
HINAVAT ORANGE GR
VAT ORANGE 7
HINAVAT YELLOW 3R
VAT ORANGE 11
HINAVAT GOLD ORANGE 3G
RED
HINAVAT PINK R
VAT RED 1
HINAVAT BRILLIANT RED 3B
VAT RED 10
HINAVAT RED 6B
VAT RED 13
HINAVAT SCARLET 2G
VAT RED 14
HINAVAT BOUDEAUX 2R
VAT RED 15
GREEN
HINAVAT GREEN XNB
VAT GREEN 1
HINAVAT JADE GREEN 2G
VAT GREEN 2
HINAVAT OLIVE GREEN B
VAT GREEN 3
HINAVAT KHAKHI 2G
VAT GREEN 8
HINAVAT BLACK NB
VAT GREEN 9
BLUE
HINAVAT BLUE RSN
VAT BLUE 4
HINAVAT BLUE BC
VAT BLUE 6
HINAVAT BLUE RCL
VAT BLUE 6:1
HINAVAT DARK BLUE 2R
VAT BLUE 20
HINAVAT BLUE 4G
VAT BLUE 29
HINAVAT BLUE 3R
HINAVAT NAVY BLUE VH
VIOLET
HINAVAT BRILLIANT PURPLE 4R
VAT VIOLET 1
HINAVAT MAGENTA 3 WM
VAT VIOLET 3
BROWN
HINAVAT BROWN BR
VAT BROWN 1
HINAVAT BROWN R
VAT BROWN 3
HINAVAT BROWN G
VAT BROWN 68
HINAVAT BROWN 2G
VAT BROWN 72
BLACK
HINAVAT BLACK CH
VAT BLACK 7
HINAVAT BLACK RI
VAT BLACK 9
HINAVAT GREY 3B
VAT BLACK 16
HINAVAT OLIVE D
VAT BLACK 25
HINAVAT OLIVE R
VAT BLACK 27
HINAVAT GREY 2B